We love unique wedding stationery ideas here as the WIS and they don't come any more innovative than Paperbird Design. We just fell in LOVE ♥ with this innovative wish tree and table tree design which really is a unique take on the table seating plan and incorporates their signature range of luxury origami stationery.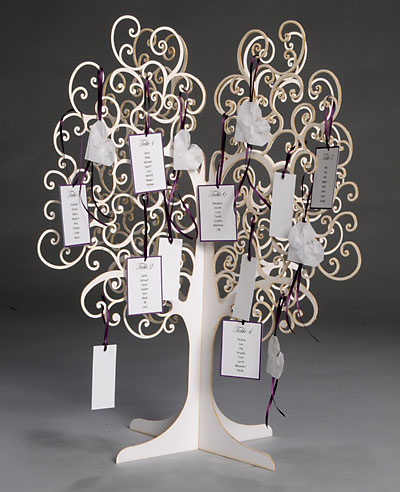 The wish tree is originally a Dutch wedding tradition. Your guests write a message or wish on a notelet and hang it upon your tree this which will then bring these wishes to life. A unique and imaginative alternative to a guest book. Paperbird Design's unique tree design works as both a table plan and wish tree. It comes as two delicate laser-cut trees that slot together to give you a stunning and intricate 3D design. Your tree can also be used as a table plan featuring all the details your guests my need; and then later can be transformed to become a beautiful wish tree. The tree comes with 12 mini origami accessories, up to 12 table plan cards, 60 notelets on ribbon of your choice for guests to write their messages on and hang on three tree and a personalised greeting for guests to read.
We just love this beautiful design and it would certainly create a fabulous centerpiece for any wedding as well as providing you with some wonderful memories of your wedding day! Contact Paperbird Design for more details. Watch out for our future posts featuring the unique origami wedding invitation designs by Paperbird Designs…..