There is nothing quite like receiving a letterpress wedding invitation with its wonderful, tactile finish. I've always wondered why Letterpress wedding stationery has not been as popular here in the UK compared to the US, where the old printing technique is certainly one of the most popular wedding invitation styles. Recently though I've noticed quite a marked increase in the number of companies offering this beautiful, high quality printing.
The Letter Press of Cirencester is certainly not new to the market, they have been printing superb quality letterpress wedding stationery since 1986 and the quality of their products really does need to be seen to be believed.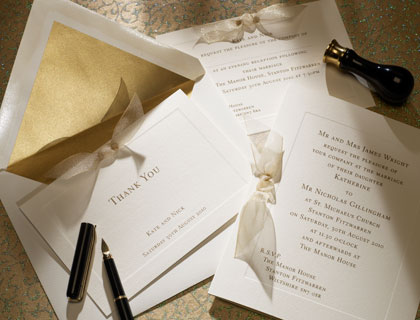 The Wedding Invitation Shop is very proud to work along side the Letter Press and we are able to offer bridal couples a 10% discount on the entire range of beautiful stationery. They offer a full service, covering engagement announcements,wedding and evening invitations, reply cards, orders of service, menus, place cards and thank you cards.
Their service is individual. The designs are based on simple classical styles, which you can either adopt as they are, or use as a starting point for your own designs. They are able to add or adapt any of the features shown on the website: plate sinking, using decorative motifs, borders or ribbons, different ink or typefaces. These can all be mixed and matched to create a special look, unique to your wedding.
View all of the beautiful designs by The Letter Press of Cirencester an place your order with us to receive your 10% discount. You can order a free sample either directly from them or from us.  Once you have decided upon your order just contact us by email to place your order and receive your 10% discount.  Take a look at some of their wonderful new designs below: