More and more couples are including additional cards and details with their wedding invitations so that their guests will have all the information they need to enjoy the big day in style.  From RSVPs, accommodation details, maps, directions, gift lists, or even an itinerary of the day itself, the amount of extra information to include with your wedding invitation is really up to you and will depend on the type of wedding.  If many of your guests are travelling some distance, or possibly from other countries, transport details, maps and accommodation suggestions will be sure to help them in planning a smooth and stress-free journey.
So how do you present all of this information to your guests?  If you have several different cards to include with your invitation, tying the stationery suite together into a lovely package will help keep the items together and can add a lovely design element to your wedding invitations.   Take a look at 5 great finishing touches to tie your stationery suite in style:
1. Rustic twine.  Tying with jute or rustic twine is a great way to add that rustic, country feel to your wedding invitation stack.   Add a tag for a lovely finish touch.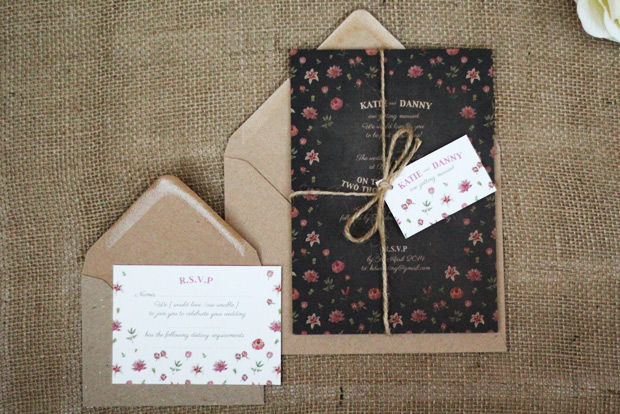 Rustic Country Garden by To Have To Hold.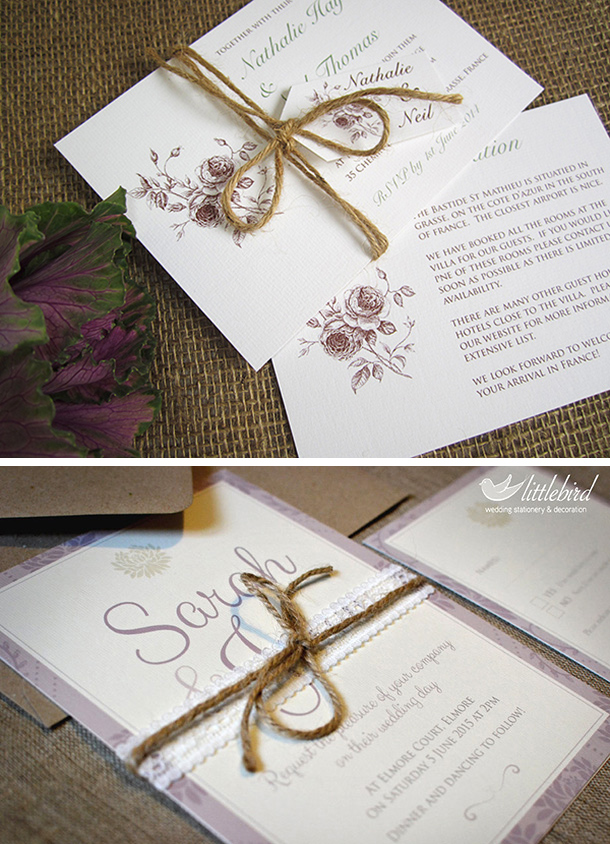 From top – Rustic Rose by Little Angel Weddings, Little Bird Designs and Petal and Pray
2. Printed bellybands are an elegant and stylish way to combine your wedding invitation elements.

Printed bellyband by Mae Mae Paperie

'Ellis' Letterpress bellyband design by the Cardlab Letterpress Company
3. Hessian or lace bellybands give a lovely rustic feel – perfect for a rustic country wedding.

From top – From Leonie with Love designs, 'Palm Beach' and 'Rustic Rose' by the Wedding Invitation Shop
4. Baker's string is available in a wide range of different colours to match your stationery colour scheme.

Paper Thread designs

Baker's String designs from Etsy
5. Satin or organza ribbon give an elegant finishing touch to any wedding stationery suite.

From rop – 'Canonbury' by Little Angel Weddings, London, 'Ellery' by the Cardlab Letterpress Company, 'Bloom' by To Have To Hold