WEDDING INVITATION WORDING
Whatever your style of wedding stationery, you want your invitations to be word perfect. Like the rest of your wedding stationery, the wedding invitation wording should reflect the overall style of your special day. Before deciding how you to word your invitation, you should to decide on the style of the wedding and the invitation itself. Typically, the more formal your wedding the more formal the invitation should be. Increasingly, many brides are opting for more informal and modern ceremonies , rather than classic and traditional which means that the invitation wording is no longer held up to such strict rules of etiquette. Ultimately, the wording of the invitation is about what you want rather than what you think should be written so don't be afraid to experiment with different wording styles! Our guide below will give you some ideas to get you started.
FORMAL WEDDING INVITATION WORDING
The number one rule for formal invitations, if you are sticking to convention, is that that invitations are written in the third person, referring to the hosts of the reception using their full names. There are no strict rules of etiquette but here are some guidelines to remember as a general rule (just remember simplicity and clarity are the most important considerations):
Here are some things to remember when you're composing a formal invitation:
- Write out names in full, including middle names - do not write names as initials
- Spell out all words, including the hour, the date and the year. Spell out all words in the address, including Street, Road and Avenue. The two exceptions to this rule in an address are Saint (St.) and Mount (Mt.)
- Use Roman numerals in names, rather than "the second" or "2nd."
- If the wedding is not going to be at a house of worship, then the phrase 'honour of your presence' should be replaced by 'pleasure of your company'.
- When a Roman Catholic mass is part of the ceremony, invitations may include the phrase "and your participation in the offering of the Nuptial Mass" on a separate line below the groom's name
- Etiquette says that the bride should be listed first before the groom, using first and middle names only. Then the groom should be listed, using both title and middle name.
- There is no punctuation except after abbreviations (Mr., Mrs.,) and when sentences requiring commas appear in one line ("on Saturday, the ninth of July")
- Numbers in the street address mentioned on the invitation are written in numerals eg) "323 Windsor Street". But when there is just one number, it is spelled out: "Thirty Windsor Street".
- Half hours are written as "half after four o'clock" not "half past four" or "four thirty"
Formal invitations should be printed on formal heavyweight paper. Ivory, cream, and white are accepted colours for formal invitations. Classic font types, such as Roman, printed or engraved in black are traditionally used.
(with bride's parents hosting the wedding)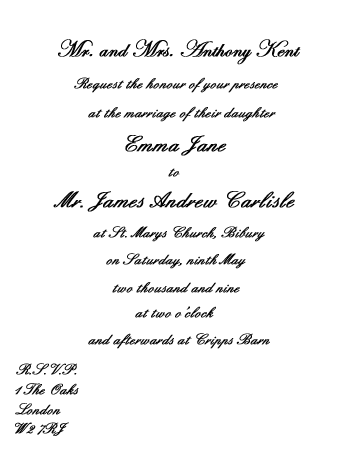 The second type of invitation includes the names of the guests in the wording: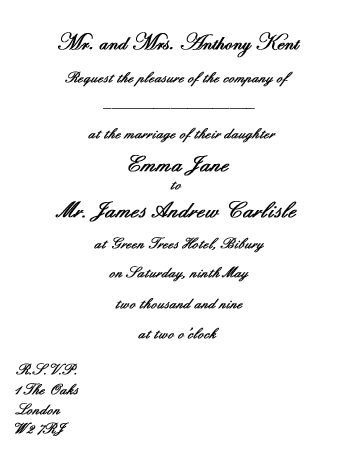 Here are some other possible variations:
(with bride's parents divorced or separated)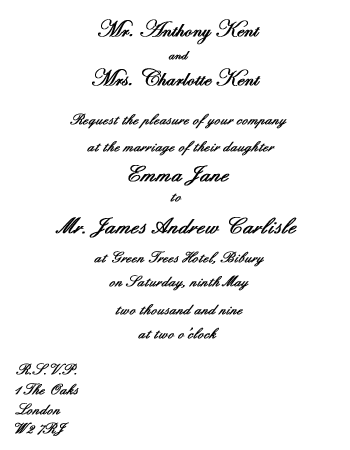 (with bride's parents divorced, mother remarried, hosting wedding together)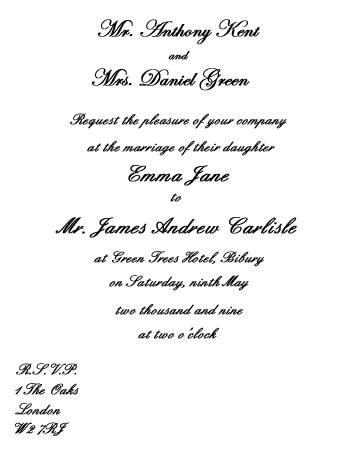 (with bride's father absent/deceased, mother remarried - include daughter's surname)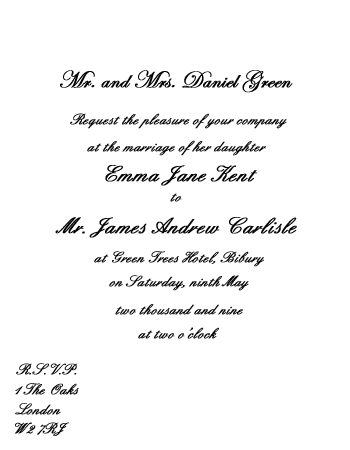 (with bride's mother absent/deceased, father remarried)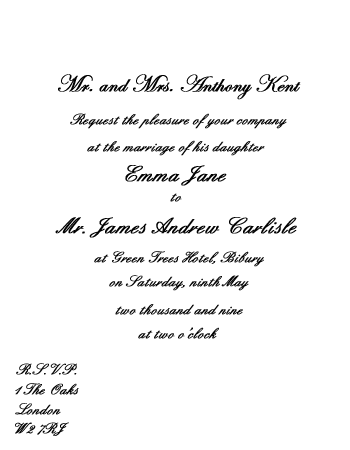 (with bride's mother widowed, not remarried)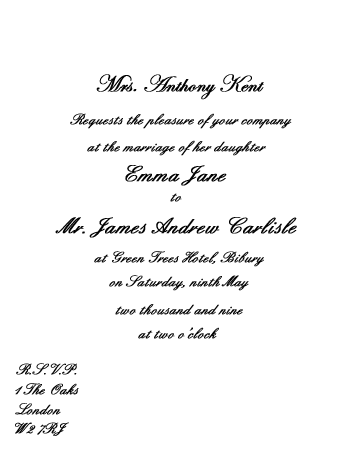 (with both bride and groom's parents hosting)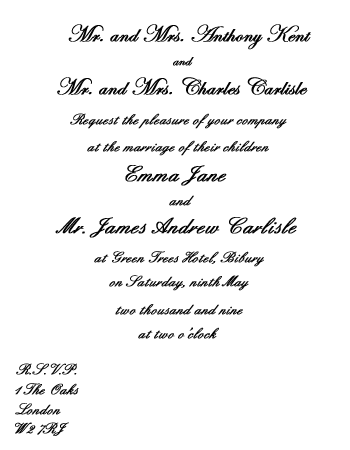 (with bride and groom hosting their own wedding)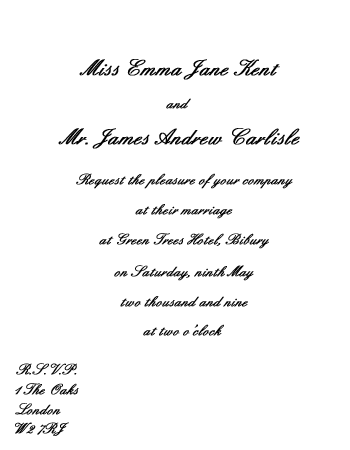 (reception only following marriage)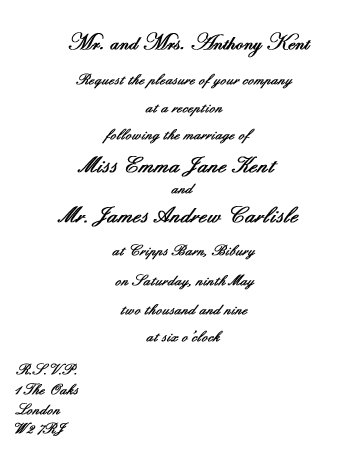 INFORMAL WEDDING INVITATIONS
For slightly less informal weddings you may wish to leave out Mr and Mrs and other titles and write the date and time in numbers rather than words. You can also print the invitation in coloured ink rather than black with modern fonts and add printed designs to the invitation. For very informal weddings, particularly those being hosted by the bridal couple, the wording and style of the invitation can be as creative as you wish - the only limit is your imagination!
You may also wish to add your
personal wedding website
address and your email address to the invitation. Many couples are now choosing to complement their wedding invitations with their own custom-built wedding website. A wedding 'wedsite' is a great way to keep your wedding guests up to date with all of your wedding arrangements and you can also put your wedding photos online after your wedding for all to enjoy!
Here are some examples of informal wedding invitations to get you started:
(with bride and groom hosting their own wedding)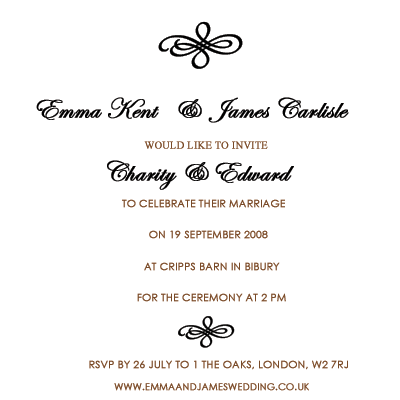 (with bride's parents hosting)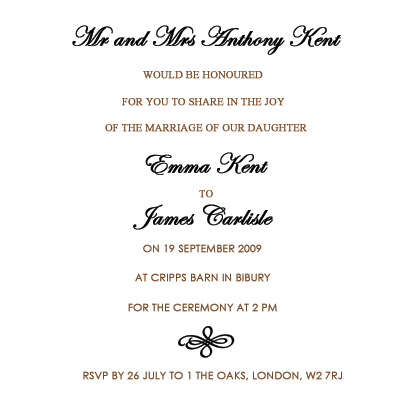 For a guide to writing
Wedding order of service and Mass booklets
, please visit our dedicated site where you will find a full range of wedding booklets and wording samples.