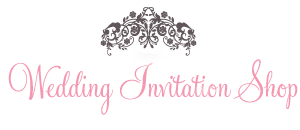 blue Wedding Invitations
Blue is versatile choice of colour for your wedding theme and can be combined with many colours to create a dramatic effect or bring a sense of calm. If girly pinks are not your taste, blue hues can provide a perfect alternative. Darker shades like Navy blue, royal blue and midnight blue can be used at any time of the year – team them with silver or ivory for a dramatic or more formal effect. For a spring or summer wedding, lighter shades such as baby blue and powder blue can work well with lemons and pinks to create a soft pastel colour theme for a gorgeous light feel to your wedding. Chocolate and paler blues also work beautifully and is one of the most popular colour combinations.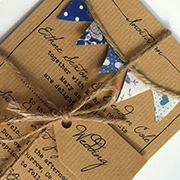 'Must be Fete' vintage invitation with shabby chic handmade bunting with string and tag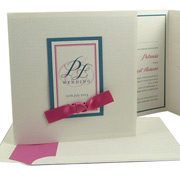 'Auriga' pocketfold gorgeous simple and timeless or with a flash of colour.