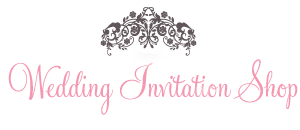 Celtic Wedding Invitations
Picking one Celtic symbol or idea is a way to narrow your decorative focus and provide a stylish look to the entire wedding, set the tone of your wedding by having the symbol printed or incorporated into your invitations and stationery. Common choices are Celtic knots, Celtic crosses, the Claddagh - the Irish symbol of love, the Luckenbooth - the Scottish symbol of love or the Welsh Lovespoon. Choosing a family heirloom, such as a coin, watch, rings, or cross that has been passed down for generations is another way to take Celtic wedding themes to the next level. Add Plaid ribbon to your wedding invitations and stationery for Scottish weddings.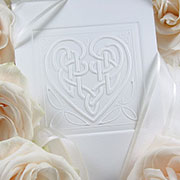 'Celtic Heart' featuring a large single embossed heart design with knotwork patterns.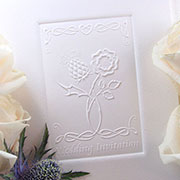 'Thistle & Rose' invitation embossed with a Celtic Thistle and Rose design.