'ELLIS' by The Cardlab Letterpress Company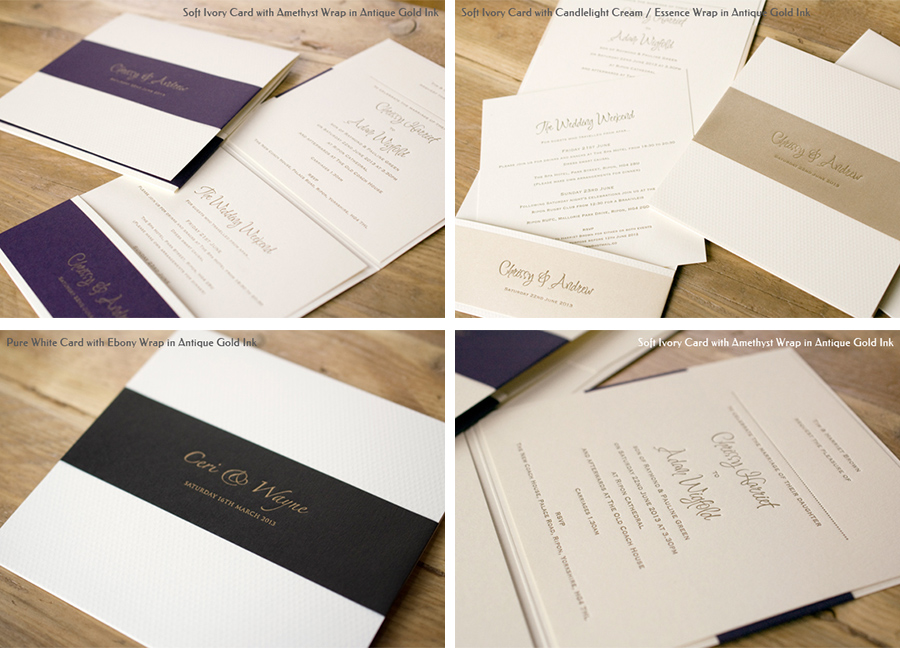 DESIGN DETAILS
Announce your forthcoming nuptials with modern elegance
This contemporary design with embossed cover and personalised wrap works perfectly with the vintage feel of Letterpress printing.
The card opens to reveal a convenient pocket to keep any information sheets, maps or acceptance cards neatly together. The card, ink & ribbon colours can all be customised to suit your wedding colour scheme. Likewise the typefaces can also be tailored to your preference.
As standard the Ellis design is Letterpress printed in a single ink colour. However if desired you can introduce a second ink colour to either mirror the wrap colour or incorporate another colour from your palette.
The Ellis design is also popular with couples who need to incorporate additional information such as; directions, accommodation listings, gift list details or an itinerary for the wedding weekend as all of these can be neatly stored in the integral pocket.
The Wedding & Evening Invitations include envelopes, which can be printed with; your return address (to avoid any invitations being lost in the post!), a motif, or the guest names and addresses. The envelopes can also be hand lined in to match your colour scheme.
Understanding with so many design options itís difficult to image how your invitations will look we offer free of charge full colour PDF proofs. So why not have a play about with some different ideas and see which ones you prefer. We donít charge or limit the number of changes to the proofs, so you can be confident youíll be 100% happy with the design before we go to press.
PRICING
For a full PRICE LIST please
click here
SAMPLES
Whilst the website is a great way to give an overview of the collection there is no substitute for receiving a beautifully printed piece of stationery. All samples are constructed to order in your chosen colour scheme and we are happy to offer 1 free sample per couple. If you would like to receive samples of more than one design you can order a sample pack in which you can select up to 3 items. The cost for this is £5. Please use the form below to request samples.
ASK A QUESTION OR PLACE ORDER
If you would like to order samples, receive a price quote or would like to ask a question about this design, please complete the form below: