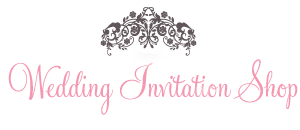 gold Wedding Invitations
Metallic colours are very popular and are often used to enhance traditional wedding invitations with engraved print or gilt edging. Deep golden shades work beautifully in an Oriental or Indian themed Wedding, or with a Chocolate theme. Black and gold will add glamour and sophistication to any wedding! The warmth and glow of gold is also a perfect colour to complement an Autumn or Winter/Christmas wedding. Whenever your wedding, a hint of gold is sure to add sophistication and glamour!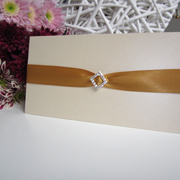 'Marylebone' pocketfold with luxurious ribbon and diamante slider. Fabulously elegant!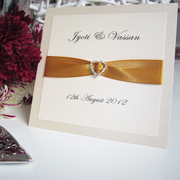 'Buckingham' pocketfold with an elegant diamante brooch and ribbon. A simply beautiful design.