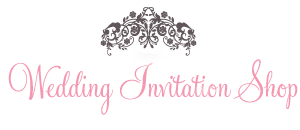 Purple and lilac Wedding Invitations
Purple and lilac shades are wonderful colours for weddings at any time of the year. Use Cadbury purple or regal purple to create a dramatic look to your wedding invitations. Add luxurious violet and cadbury purple satin ribbon and use as an accent colour - team with shimmering silvers, fresh white and ivory. For a more subtle effect use pale purple, lilacs and lavender - mix with white, ivory, pastel pink, pale yellow or sage for a spring wedding.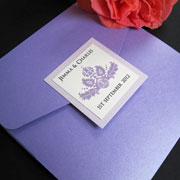 'Marylebone' pocketfold with luxurious ribbon and diamante slider. Fabulously elegant!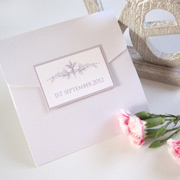 'Chandos' pocketfold with vintage motif. Available in a range of colourways.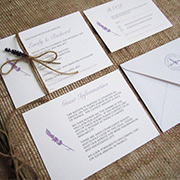 'Lavender Love' rustic stationery suite with lavender motif and personalised stamp.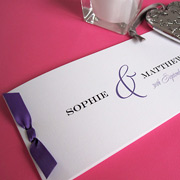 'Sanderson' is a clean, modern design with satin or organza ribbon. Available in many colours.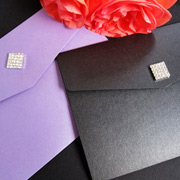 'Mayfair' pocketfold with an elegant diamante detail. A simply beautiful contemporary design.