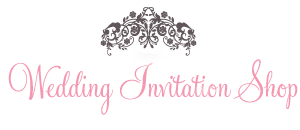 silver Wedding Invitations
Metallic colours are very popular and are often used to enhance traditional wedding invitations with engraved print or gilt edging. Lighter, brighter silvers and chromes work particularly well in Spring and Summer weddings and their contemporary nature will complement a modern wedding perfectly. Silver is also a cool colour and would complement a winter wedding – add ice-blue hues, silver snowflakes or crystals and diamantes for a cool, sophisticated look. Silver, black and ivory or silver and blue work perfectly together but you could also add cool pinks or plum purple to silver for a great colour combination.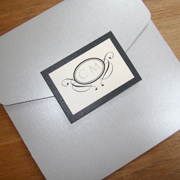 'Ritz' pocketfold with vintage frame motif with initials inside. Available in a range of colourways.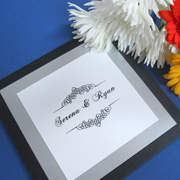 'Belgravia' pocketfold with monogram detail inside. Available in a range of colours.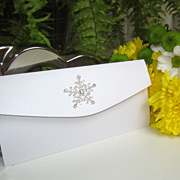 'Knightsbridge' snowflake wedding invitation with large diamante snowflake embellishment.
'Mayfair' pocketfold with an elegant diamante detail. A simply beautiful contemporary design.