'BUNTING' by Xoxo Stationery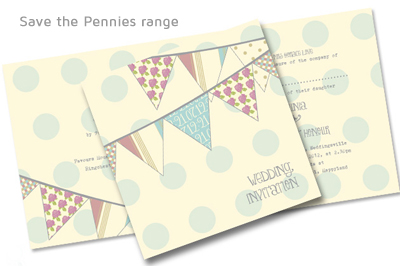 DESIGN DETAILS
This design comes from our printed Save the Pennies range (inc. Pocket Invitation). Village hall, barn, garden, relaxed, fun...whatever! You can't go wrong with a bit of bunting. - can be customised to suit your colour scheme (no additional charge). Choose between smoothie cardstock or tactile textured cardstock. Outer envelopes (120gsm white or ivory 'peal and seal').
PRICING
FOLDED INVITATION – £2.25 each*
POSTCARD INVITATION – £1.25 each*
Z FOLD INVITATION – £2.30*
[includes guest information and reply postcard]
POCKET INVITATION – £3.95 each*
[includes two double sided inserts]
*based on quantity of 60, card stock: smoothie.
SAMPLES
Samples of the hand finished and Save the Pennies range are charged at single unit price plus postage cost. For samples and more pricing information, contact us using the form below or email us:
enquiries@xoxo-wedding.co.uk
ASK A QUESTION OR PLACE ORDER
If you would like to order samples, receive a price quote or would like to ask a question about this design, please complete the form below: